Dr Joseph Yi is a Board Certified Addiction Psychiatrist who specializes in Holistic Psychiatry and Detoxification. After graduation from UMDNJ Robert Wood Johnson medical school, Dr Yi went on to do his psychiatry residency at Cooper University Hospital. It was at the heart of Camden, NJ where Dr Yi learned to treat some of the most challenging cases of psychiatric, addiction and detox patients. As a resident physician, Dr Yi had the privilege of apprenticeship under NY Times best-selling author, Joel Fuhrman MD, on nutritional therapy for mental health treatment. Since graduating as Chief Resident of psychiatry at Cooper hospital, Dr Yi followed his passion for addiction medicine and has worked at dual diagnosis facilities (mental health and substance abuse) including Hampton Behavioral Health Center, Fairmount Behavioral Health, and Today Incorporated.
Since starting his solo private practice in 2009, Dr Yi has helped patients throughout Bucks County overcome their dependency to opiates, alcohol, and other substances through his Modern Detox Program . The program provides a personally individualized tapering plan on an outpatient basis, as an alternative to going into an inpatient facility for treatment.
In addition to conservative medication management, Dr Yi utilizes a more Holistic approach towards helping improve patients' overall behavioral wellness by integrating the following as part of his treatment plans:
motivational counseling
nutritional therapy
exercise science
yoga
spirituality
Modern Behavioral is the group practice expansion and growth of Dr Yi's original program. By creating a team of health professionals incorporating a Holistic approach to addictions and behavioral health treatment, the group is dedicated to offering the best quality of care while serving Bucks County – one patient at a time.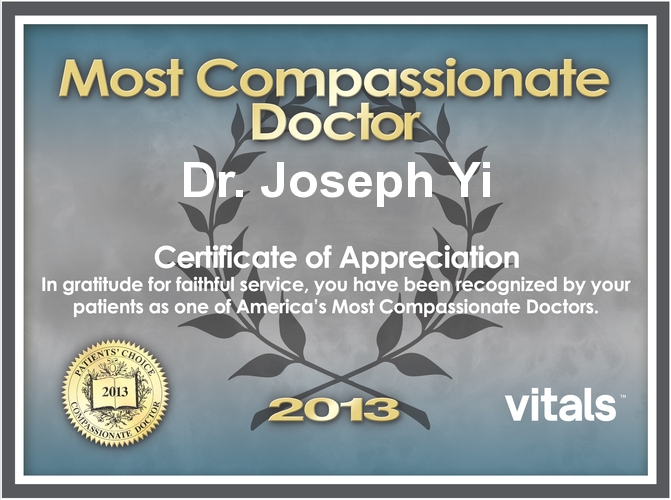 Most Compassionate Doctor
In gratitude for faithfull service, you have been recognized by your patients as one of America'a most Compassionate Doctors.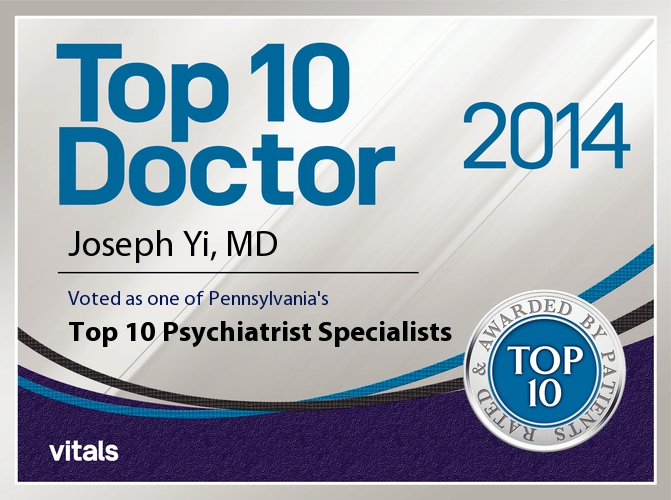 Top 10 Doctor 2014
Joseph Yi, MD Voted as one Pennsylvania's top 10 Psychiatrist Specialists.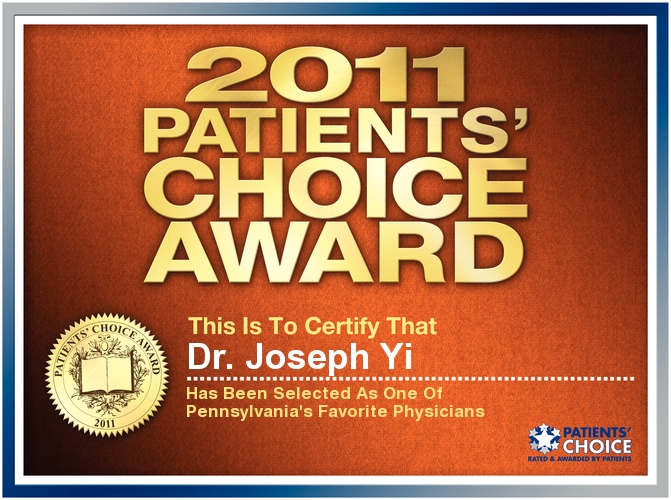 2011 Patient's Choice Award
This is to certify that Dr. Joseph Yi has been selected as one of Pennsylvania's favarite Physicians.
"Dr. Yi is a doctor way ahead of his time."
– Brian IN morrisville, PA
"Dr. Yi is very educated and knowledgeable in doing what he does. He will help you to the best of his ability if you are patient and allow him to do his magic."
"Dr. Yi has gone above and beyond to try and help me lead a healthy and productive life. I wouldn't be where i am today, without him and his exceptional staff."
"Dr Yi and I have been working together for about 2 months and he has helped me more than any other psychiatrist. He is an inspirational and influential man who is as real as they come."
– Anonymous
"Dr. Yi is that doctor I've always needed to meet. Any doctor who studies can learn medicine, but not every doctor can learn and connect with their patients."
– KF IN Yardley, PA
"If you are looking for a Doctor that truly understands what you are going through and has a legitimate passion for addiction and healthy living, Dr. Yi is your guy."
-AK IN NEWTOWN, PA
"With his emphasis on proper nutrition, exercise and personal guidance I am now living a healthy lifestyle drug free. I even completed a marathon!"
-Anonymous
"It was apparent from the initial phone call that we found a true, first class Specialist in the Health Industry. Thank you for your dedication and restoring our lives!"
-ART IN NEWTOWN, PA
"You will not find a better, more passionate and compassionate doctor! He truly makes you feel like you're family and cares deeply for his clients."
– CHELS C IN YARDLEY, PA
"Dr. Yi came up with a very creative way to help me detox off of Suboxone. I am truly grateful for the time he spent with me during his off hours, motivating and encouraging me to become a better version of myself."
– Anonymous
"Dr Yi is a gift! After only a year of meeting with him, I have enrolled back into college, lost 20lbs, started eating healthier and all around having a healither happier mindset."
– BRIANNA IN UPPER MAKEFIELD, PA
"Dr. Yi saved my life and continues to empower me."
– AT IN NEWTOWN, PA
"After years of struggling w depression and acquiring an opiate dependence, Dr. Yi is the 1st and only doctor that has addressed the neurotransmitters in my brain that has so much to do with my condition."
– Harrison, NJ
Address
760 Newtown-Yardley Road Suite 122 Newtown, PA 18940
Dr Jasmine Gill graduated from St. Christopher's College of Medicine in 2005. She went on to complete her Psychiatry Residency training at Cooper University Hospital in Camden, NJ in 2010. Board Certified in Psychiatry, by the American Board of Psychiatry and Neurology (ABPN), Dr. Gill has provided her expertise in many different levels of care. In addition to being the Medical Director of a Partial Hospitalization Program at Fairmount Behavioral Health, Dr. Gill has also worked in an acute inpatient setting, residential rehab, and outpatient level of care.
Dr. Gill is an active member of many professional organizations including the American Psychiatric Association and the American Medical Association. She has also published several journal articles and continues to pursue her passion for learning and education. She is committed to the field of psychiatry and is an advocate to heighten awareness of mental illness and substance abuse in the community.
Address
760 Newtown-Yardley Road Suite 122 Newtown, PA 18940
Dr. Zaveri is an adult and child and adolescent psychiatrist. She completed her psychiatric residency at Albert Einstein Medical Center in Philadelphia followed by a two-year fellowship in child and adolescent psychiatry at Drexel College of Medicine where she served as chief fellow. Dr. Zaveri graduated from The George Washington University with a bachelors in Economics and International Business and obtained her medical degree from Rowan/UMNDJ University School of Osteopathic Medicine in Stratford, NJ.
Dr. Zaveri has a special interest in autism spectrum disorders, ADHD, and pediatric mood disorders. As an active member of the American Academy of Child and Adolescent Psychiatry, she is committed to the advocacy of children's mental health and stigma reduction through education and outreach. Dr. Zaveri has expertise working in multidisciplinary environments and strives to coordinate care with treatment providers across all settings.
Address
760 Newtown-Yardley Road Suite 122 Newtown, PA 18940
Christina Gilardi, MS, LPC, NCC received her Bachelor of Arts from Temple University and went on to study at Cairn University where she earned her Master of Science in Counseling. Christina then went on to pass her National Boards and received her accreditation of Nationally Certified Counselor and Licensed Professional Counselor in the state of Pennsylvania. Her skills and experience are focused around individual psychotherapy, family therapy and marriage counseling as well. She is deeply committed to her clients' well-being and can easily inspire trust, warmth and rapport.
Christina has professional affiliations through the American Psychological Association (APA) as well as the American Association of Christian Counselors (AACC). Christina is driven to continue to grow and expand her knowledge and skills in counseling psychology through attending yearly seminar trainings and workshops to always stay engaged in current and top methods of research and interventions. Christina is also bilingual and can speak fluently in Spanish. Her strong development of a number of therapeutic models, favoring Cognitive Behavioral Therapy (CBT), Acceptance and Commitment Therapy (ACT) and Adlerian Therapy has allowed her to cultivate trust, rapport, and warmth with her patients. In her spare time, Christina enjoys running, practicing the art of yoga, training in Krav Maga and spending time with her family.
"Christina is the best therapist I've seen to date (and I've tried out quite a few in the area!). I've struggled with anxiety and panic attacks for the past 6 years. Without Christina's guidance and help, I would not be where I am today. She truly cares for her patients, which makes such a difference. Her cheerful nature makes her easily approachable - she will make you feel welcome, which makes it easy to unwind and get things off your chest. She will help you to become your best "you" yet!"
"Christina is the best therapist that I have had the privilege of working with after years and years of therapy."
– BRANDON NOVAK IN PHILADELPHIA, PA
"Christina has been so wonderful to see. Always very open and easy to talk to. I look forward to my visit each time and always leave feeling better than before I got there. Would definitely recommend her to anyone."
Address
760 Newtown-Yardley Road Suite 122 Newtown, PA 18940
Erin has worked in the mental health field for several years, allowing her to gain diverse experience with various populations and settings. Previously, Erin has worked in inpatient centers, partial hospitalization and substance abuse programs, and outpatient counseling.
She received her Bachelors degree from Arcadia University and went on to receive her Masters in Clinical Counseling from the Centenary University of NJ. Erin utilizes an integrative approach to counseling, using skills and techniques from several treatment modalities, such as DBT, person-centered therapy, and motivational interviewing.
Erin is currently completing the required clinical hours to become a Licensed Professional Counselor in PA & NJ.
Address
760 Newtown-Yardley Road Suite 122 Newtown, PA 18940
Kelly Jones is a Registered Dietitian Nutritionist, former athlete and current fitness enthusiast who believes that eating real food and leading an active lifestyle are keys to not only physical health, but also mental health and happiness. As a Board Certified Specialist in Sports Dietetics, she finds great joy not only in aiding athletes to perform their best, but also using both research-based nutrition and fitness principles to allow any person to improve their physical and mental energy levels.
Kelly earned her Bachelor of Science degree in Nutritional Science with a minor in Exercise Science at the University of Connecticut, completed the dietetic internship program at the University at Buffalo, and also completed her Master's Degree in Clinical Nutrition with a concentration in Exercise Science at UB. She works as a full time faculty member as an Assistant Professor at Bucks County Community College and also as a consultant to the Modern Behavioral Family to optimize our community's awareness on sports nutrition and wellness.
Address
760 Newtown-Yardley Road Suite 122 Newtown, PA 18940
After graduating with my BA in Psychology, I started working as an addictions counselor. I made the switch to the fitness industry in 2016 and received my NASM CPT certifications. Fitness was the perfect way for me to help people, but in a totally different capacity than counseling.
I developed an interest in fitness while I was struggling with depression and found it as a means to cope and release endorphins to make me feel better. I was a chronic "yo-yo exerciser" – I was constantly starting and stopping and starting and stopping. That changed for me in 2016 when I found myself at my heaviest weight and highest body fat percentage. I started getting back into exercise (about 6 months before my career change) and that was it for me. I have found such empowerment, confidence and sound mental health in fitness that I am never going to give it up.
I love to use Exercise Science as a way to help others not only to Look Good, but also to Feel Good by helping manage their emotional & physical pain. Because at the end of the day, the Purpose is to enhance the quality of life. I am driven by my clients who look to me for inspiration – emotionally, physically, and mentally. I sincerely hope to have the opportunity to motivate you to become the best version of Yourself!
Address
760 Newtown-Yardley Road Suite 122 Newtown, PA 18940