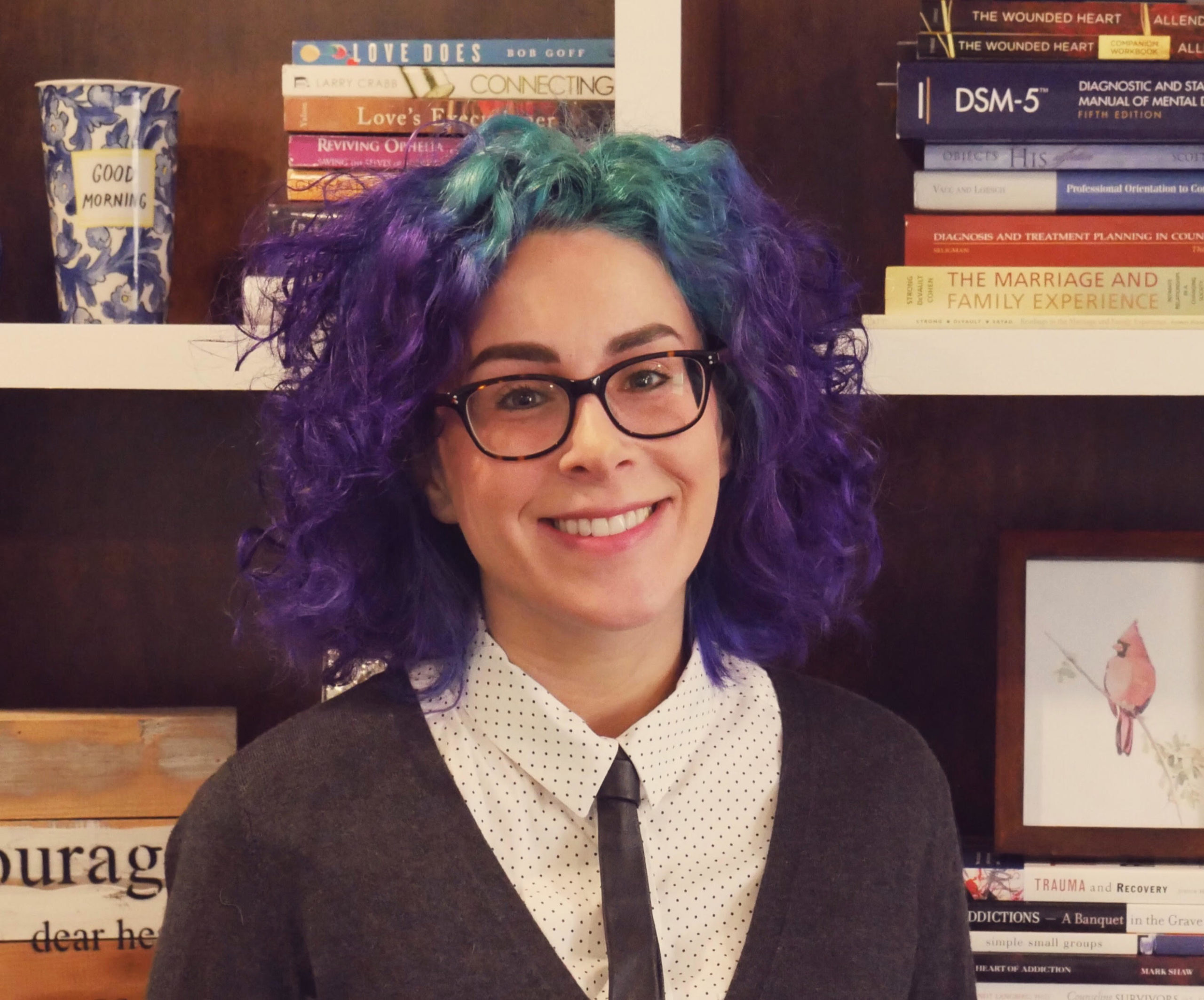 Pam Rothman, MS, NCC, LPC, CCTP
It's taken me a long time to get here. When I was a kid, my dream job was to be an illustrator. I started drawing when I was two. Everyone told me I had a talent and a gift, so I thought I had to be some type of artist. Fast forward all those gross adolescent years where teenage angst was in full swing and I was completely out of control. I got into art school but was absolutely miserable. How could this be? This was my life's calling! My hobby became a chore, so I left. I wound up going back to school for journalism since I always liked to write. After graduation, I bounced from job to job due to getting fired because of my bad attitude and ongoing feeling of wanting more.
Pam's brand of humor and compassion has filled a need in my development, not just as a human, but as a mother of a challenging son, that I did not realize was missing. Her technique of letting you know she "has your back" is one I have never experienced before. My life and the life of my son have been saved due to working with Pam.
Pam makes everything realistic and breaks situations that seem like mountains down into road bumps that can be easily overcome. She has gently worked with me through my trauma, knowing when to push and when not to. She has been there for the falls, helped me get back on my feet, and kept me going every single time without judgement, but still conveying the importance of my sobriety and keeping the focus on myself.
I am an alcoholic and had been suffering from recurring nightmares for years. I thought nightmares were normal for me, and I had no hope of stopping them. I only met with Pam three times and she resolved my problem. She showed me how to find solutions in my dreams, and my nightmares have ceased. She taught me that the mind is a powerful tool and capable of much more than we realize.
Since I was unemployed during the recession, I volunteered at a local mental health group. I seemed to play the role of therapist to my friends, and due to my upbringing, I knew more than I liked to admit. I felt like I finally had the purpose I was looking for. After three years of job hunting, I took the first job I could find. During that time, I made an appointment at Holy Family University's graduate admissions to see what it would take to go back to school. There's just no way to swing working a full-time job and grad school. I felt defeated, but I kept it in mind while I'm miserable at this new job. But, surprise! I got fired from that job, too. I signed up for prerequisite classes the next day in pajamas, and got into grad school by the following semester. I would love to say how much I adored grad school, but school is not my favorite. Sure, I learned a lot and had some great professors, but it became redundant. I was restless and ready to start interning. No amount of education can prepare students for practicing in their field, and my internship was incredible. I was worried that my previous brush with the legal system would interfere with landing an internship, so I applied to an inpatient rehab, which then hired me full time as a case manager. I worked my way up to a therapist then a supervisory role, and was in my element working with people who came from nothing and often court mandated. I like to think my clients and I got along well because I treated them as human beings and not criminals or victims. The link I found with repeated substance use disorder clients was often their unprocessed trauma. I pursued additional trainings, and now specialize in addiction and trauma. Over time, I discovered that my clients felt heard and that the long journey it took to get here was worth it.